167 PCS MULTI-FUNCTION TOOL KIT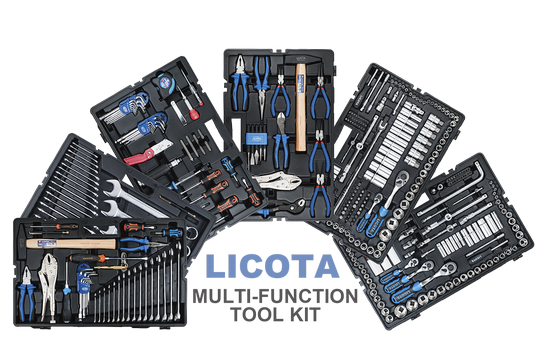 THE MULTI-FUNCTION TOOL KIT FEATURES A DETACHABLE TOP COVER AND BOTTOM TOOL TRAYS. DEPENDING ON WORKPLACE SETTINGS AND JOB REQUIREMENT, YOU CAN MIX AND MATCH TOOLS REQUIRED FOR THE JOB NO MATTER IN THE WORKSHOP OR ON THE ROAD.
THE TOOL TRAYS FIT SEAMLESSLY INTO OUR POPULAR TOOL CHEST SERIES. CONSTRUCTED OF HDPE MATERIAL AND EQUIPPED WITH FOUR SOLID METAL LATCHES, THE TOOL CASE IS ENGINEERED TO BE TOUGH, SAFE AND EASY TO TRAVEL TO JOB SITES.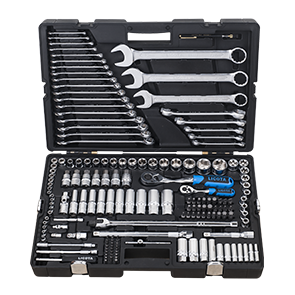 Contents:
13 PCS 1/4" SOCKET 4, 4.5, 5, 5.5, 6, 7, 8, 9, 10, 11, 12, 13, 14 mm
7 PCS 1/4" DEEP SOCKET 6, 7, 8, 9, 10, 12, 13 mm
5 PCS 1/4" E SOCKET 4, 5, 6, 7, 8 mm
15 PCS 1/2" SOCKET: 10,12,13,14,15,16,17,18,19,21,-22, 24, 27, 30, 32 mm
10 PCS 1/2" DEEP SOCKET: 10, 12,13,14,15, 17, 19, 22, 24,27 mm
9 PCS 1/2" E SOCKET E10,11, 12, 14, 16, 18, 20, 22, 24 mm
4 PCS 1/2" BIT SOCKET: H13,H14,H17,H19 mm
3 PCS 1/2" BIT SOCKET: M14, M16, M18 mm
27 PCS 1/4" × 25mmL: PH: #0, 1, 2
PZ: #1, 2
SL: 4, 5.5, 6.5
HEX: H2.5, H3, H4, H5, H6
TH: T8H, T10H, T15H, T20H, T25H, T27H, T30H
TORX: T8, T10, T15, T20, T25, T27, T30
28 PCS 10mm × 30mmL BIT: HEX: H6, H7, H8, H10, H12
SPLINE: M5, M6, M8, M9, M10, M12
SL: 8, 10,12 mm
PH: 3, 4
TX: T20,T25,T27,T30, T40, T45, T50, T55,T60,T70
PZ: 3, 4
1 PC 1/4" DR. BIT ADAPTER
1 PC BIT ADAPTER HOLDER: 10mm × 1/2" DR.
1 PC SPINNER HANDLE
1 PC 1/4" DR. SLIDE T - BAR
2 PCS UNIVERSAL JOINT: 1/4" DR. & 1/2" DR.
3 PCS RATCHET HANDLE: 1/4" DR. & 1/2" DR.
1 PC TM HEAD ADAPTER 3/8"F × 1/2"M
1 PC 3/8"F × 1/4"M ADAPTER
2 PCS 1/4" DR. EXTENSION BAR: 75, 150 mm
2 PCS 1/2" DR. EXTENSION BAR: 125, 250 mm
1 PC WOBBBLE EXTENSION BAR: 50 mm
1 PC 1/4" DR. FLEXIBLE EXTENSION BAR
1 PC 1/2" DR. FLEXIBLE HANDLE (15")
3 PCS JAW TYPE SPARK PLUG SOCKET,
1/2" DR. 6PT: 16mm × 65mmL & 21mm × 65mmL
3/8" DR. 12PT: 14mm × 63mmL, HEX: 17mm
21 PCS EUROPEAN CONBINATION WRENCH:
6, 7, 8, 9, 10, 11, 12, 13, 14, 15, 16, 17, 18, 19, 21, 22, 23, 24, 27, 30, 32 mm
5 PCS FLARE NUT WRENCH: 8×9, 10×11, 12×13, 14×17, 19×22 mm
1 PC TELESCOPIC MAGNET PICK UP TOOL, 3.5 LBS